Baziju, Box Kite. Toronto: House of Anansi Press, 2016
Lorna Crozier, The Wrong Cat. Toronto: McClelland & Stewart, 2015
Arc Poetry Magazine, 2016
Gillian Wigmore, Orient. London, ON: Brick Books, 2014
Andy Weaver, this. Ottawa, ON: Chaudiere Books, 2015
Typeset in Courier and Minion by Chaudiere Books co-publisher Christine McNair, the visual aesthetic flows and disrupts beautifully as poems alternate from text block heavy to more terse, angular, drifting shapes on the verge of or what is undoubtedly vispo, depending on the piece.
The careful selection and attention to the placement of each character, word and line as though right click + delete not yet a thing,  as though the author tapped away at a typewriter. Love letters to language, the English alphabet, wordplay, experimentalism, abcedarian, Creeley, Kroetsch. Offerings.
The very word "this" and its connotation quickly becomes a present-tense mantra for Weaver and borrowed lines that contain the word by notable (quoted) others. This: replacement – anonymous either because indescribable or intentionally otherwise – for a name, a feeling, a place, a segue, a war, an event, the implications, the result, the end… Why this and not that? Why this at all? Why, underlined.
Some stream of consciousness type poems with seeming disconnection read like internal monologue which is constantly self-disrupting but so well-written that nearly each line holds the grandeur of a title of a (not yet written) poem. Others are beautiful hybrids of contrasting prose-poems within a single prose-poem. Weaver's cat. Well-worth re-reading to attempt to connect the dots within and between pieces.
If I had read Guns, Germs, and Steel, I would draw a link by way of homage.
What follows is one in a series of poems entitled Politics, sardonically philosophical with humanity.
Politics
The oak tree doesn't care
whose lot its leaves fall on.
Say what you will about Freddy Krueger,
it's nice to see a man take pride in his work.
Don't you think it's suspicious no one's ever
seen Karl Marx and Bill Gates in the same place
at the same time? I mean, I'm not saying.
I'm just saying. Even when the mind
isn't minding, the brain is still braining.
After the long days of rain,
the first robins begin to sing.
By all means, write beautiful testimonials to love.
Standards of economy dictate that a girl
dead at five has lived a whole life.
you. Let's bomb them back to the Flintstone age.
Who knows why democracy doesn't work?
The earthworm lobby wants to know
when last week's rainstorm and every
grade twelve biology class will be declared
a state of emergency. Perhaps Marx's great
insight was that a scared world is really not
different from a scared one. I take great comfort
in knowing that when I die the multinational
corporations will go on without me.
A thoroughly refreshing read. You can buy your copy online via All Lit Up , by visiting Chaudiere Books at the ottawa small press fair this Saturday, November 7th at the Jack Purcell Community Centre (upstairs), between noon and 5, or visit Chaudiere Books' website for more information:  http://www.chaudierebooks.com/
Jane Munro. Blue Sonoma. London, ON: Brick Books, 2014.
Arc Poetry Magazine, March 2015
JonArno Lawson. Enjoy it While it Hurts. Hamilton: Wolsak & Wynn, 2013.
Arc Poetry Magazine, November 2014
Brecken Hancock. Broom Broom. Toronto: Coach House Books, 2014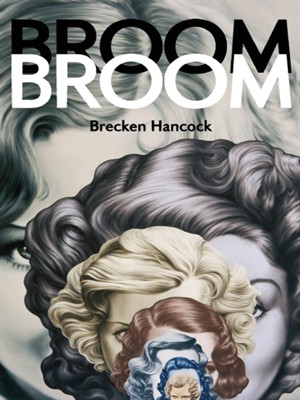 If Doctor Who has taught me anything, it's that time is not linear and that it can be rewritten. While both of those statements are debatable, with a book, we infallibly start at the beginning. But, do we? An epigraph guides, provides context. "Mommy, I'd rather have you dead than crazy," a chorus line from Yoko Ono's song I Felt Like Smashing My Face in a Clear Glass Window capitulates a precise period in Brecken Hancock's recent past and paves a glassy path from there to here.
Deterioration of the mind's faculties is usually reserved for and nearly expected of all of us when we reach a certain age and is something many of us will have witnessed or know to be true. The realization that early onset dementia of the author's parent is the touchstone of this book quickly sets in. Hancock explores this difficult subject bravely, unabashedly, lovingly, honestly.
Hancock's pieces range in length and disclosure. Not one to shy away from the dark or insidious nature of her environment and experiences, she rages against her trauma every desperate, self-saving way she knows or comes to know how; questioning, drinking, witnessing. Victim, though no wolf crier. There is a beautiful and enduring strength woven through nearly each page. I suspect it not only a reflection of the author herself but her knack for crafting concise, rich imagery.
Mirror imagery runs a constant theme as within Mom's Sisters' Daughters, Duos, and Her Quiet Not Quite Not Her. From the latter: Accident 5: Slap across the face; my nosebleed confettis / ceramic tile. And then I'm out the door, bare feet / breaking through the hardened heaps of snow behind / our house. To flat a little rabbit skin to wrap my baby / bunt … bunt, my gut moths against the window. / Through the looking glass, I watch her frenetic smear.
Similarly, as with Evil Brecken, the phenomenon of doppelganger and then dual personalities simultaneously decking it out against each other while clinging hands for strength is prominent. It is these poems, which the author details her struggles with sense of self throughout and up against the backdrop of her mother's constant onion like reincarnation, which strike me the most.
There is a spellbound quality well dispersed and intertextualized throughout Hancock's debut collection which, at times, read as incantations or mantra as within the poem Lake Effect: Snow blinds the deer hearse. / Snow needles the blood purse. / Snow porridge in the hobo's bowl. / Snow angels spread for ripper's toll.
Then, in the lulling Progression Blunts Empathy, Hancock writes:
Hush now, Mama, don't / say a word. Daughter's gonna / drink until you're cured
I don't mean to comment on religiosity; rather, that Hancock makes fine use of the comforting aspects the objective "one" can spot in religious texts, pop songs, fairy tales and poetry alike. Repetition, sing-song, plot-driven, narrative texts just tend to appeal to the human ear. Hancock executes these isms beautifully and with skill and cognizance far beyond what one would expect from a first collection.
Full excerpts from her chapbooks Strung (JackPine Press, 2005) and the more recent The Art of Plumbing (above/ground press, 2013) and sundry previously published material provide for contrast and welcome respite for the, at times, Poe-like awe some of these pieces evoke. Hancock's pacing is impeccable.
The, one could call, eponymous poem Once More evokes a highly confessional tone –the same tone which permeates throughout the book but which seems to culminate in this particular piece. It's as if Hancock is making a last ditch effort to make sense between what the head knows, what the head knows and what the heart can and can't admit. And it heart achingly works: I love my husband. We made a suicide pact: no suicide / …What time was she travelling through those last, mute years? / …Mother, I'm the witch you raised, raising myself up without you. / …I tried to tidy you up, but I'll never be done. The forty thousand brooms have overrun.
---
Nelson Ball. Minutiae. Ottawa: Apt 9, 2014
Nelson Ball's most recent work,  the latest beautifully hand-crafted chapbook from Ottawa's Apt. 9 Press, is aptly and humbly named Minutiae.
Simply set on rough-edged card stock with a sketch of the poet  in profile by Ball's late wife and extraordinarily talented artist and printmaker Barbara Caruso gracing the cover, you will want to own this as a work of book art alone.
If you've read anything by Ball (and I have, though not nearly as much as I would like to), you will know there is a certain quality and tone to Ball's work; a surface simplicity wrought with layers of contemplative and meditative thought. No space on the page is superfluous.
Typical of his work I've read to date,  there is much being said in between, above, around and beyond the line(s) provided.
One Way, Then Another
Black night sky
turns blue
in the lightning's light
In the night sky
lightning's light blue
turns black
Like Rubin's vase, Ball has the ability to write about the common or even mundane in that he can frame his poems in a way such that they appear to be about one gentle subject in a few words or line but which are fraught with big questions about subjective perception of reality and life as we each know it. This is the kind of poetry that breeds patience, confusion, understanding, and more poetry. This is the kind of poetry the world needs more of.
While I sit here and pine for access to more of Ball's work (none the least of some exquisite ephemera stored in jwcurry's Room 302 collection – come to the next Ottawa Small Press Book Fair for inquiries), I highly recommend you head over to Cameron Anstee's blog for further information on this absolute treat of a publication and where you can purchase it.  Hurry, hurry, though: I was fortunate enough to snag copy 53 of 100 and I don't imagine this is the sort of thing that will be available for much longer.
---
David O'Meara. A Pretty Sight. Toronto: Coach House Books, 2014
To say Ottawa poet David O'Meara has perfectly captured the essence of an existential crisis in his newest collection would be unfounded but not entirely inaccurate, judging from the kaleidoscope of poems contained therein.
Throughout A Pretty Sight (Coach House Books, 2013), O'Meara has the sensibility, wisdom, and humaneness usually reserved for time travelers. Through his words, the reader is whisked from physical to emotional landscapes, seascapes, air-scapes and no-scapes; thoughtful journeys of philosophical contemplation and self-aware perception with often muddied lines. Of the 91 poem-laden pages, one can visit most of Europe through varying timelines, the moon, ghosts, and a ditch (not necessarily in that order).
From a purgatorial conversation between a famous philosopher and an unforgotten punk in Vicious (or, On Dissent) to the beautifully wistful Terms and No One, O'Meara's poems genuinely raise from the page to burn into your retinas and echo in the shadows of your skull whether you wish them to or not.
Descarte's cogito ergo sum (I think, therefore I am) is a question I found often asked or thematically present in most of his poems. It seems as if this book is the fruit of O'Meara's contemplations on this and other insomniac-/crazy-making questions, but that they may even/also be a main source of his joie de vivre.
As in his poem Fruitfly, O'Meara effortlessly bends and blends size, physical space, the macro and the micro to comment on existential thoughts that we all ponder at some point or another but try not to think about too hard at any given time: Who am I? How (in)significant am I? Relative to what? What of the connection between time and space; are these the fabrics of everything we know and understand? Thanks, so long, fish, etcetera.
excerpt from Fruitfly
When Voyager I
was scheduled to clear
the solar system,
NASA signaled its onboard camera
to swing back
and take a picture of home. Six
billion kilometers out,
Earth's photo
a 'pale blue dot' .12
pixels in size.
I am in there too,
a child in trampled clover.
Retracing his travels through many of these poems, it is hard not to feel romantic and deeply contemplative about the folly of life, death and everything in between. That is a direct challenge, dear reader. Lines like "the way we can follow/someone through snow / to make the going a little easier" and "Paradox: to be perfectly here, you must/ stop thinking about it, then it's on," are hard to ignore – and why would you? A stereoscopic view of carefully selected moments painted in moments, O'Meara captures their essences aptly, allowing them to shine in all their honest, questioning, heart-bursting glory.